Seamless communication holds high significance in workplace success. Your employees must include sophisticated technology to ensure smooth and uninterrupted communication. Installing unified communication (UC) system in your business can make a difference in business productivity. UC system can ensure better collaboration for efficient communication. While it improves the efficiency of the workers, they may not lose their privacy or concentration.
UC system can provide an effective audio solution to boost the modern office environment. It can also maximize the supposed advantages of having a collaborative workspace. When you install a modern UC headset for the office, you must check the following attributes to ensure you get maximum results. These attributes play a vital role in transforming your company's productivity by addressing the challenges using audio techniques.
#

1 Premium Sound Quality
Customer satisfaction holds the utmost importance in a business. Hence, you must answer the queries and concerns of your customers without delay. Call clarity has high demand in customer service. Office headsets must deliver outstanding performance while canceling the background noise. The modern UC headsets you choose must provide the best communication experience with minimal disruption in a challenging acoustic environment.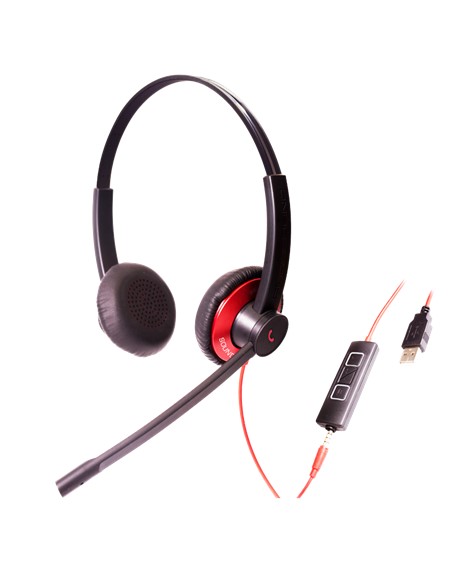 #

2 Wearing Comfort
The UC headset must offer comfort while wearing it all day long. The design must reduce the physical strain on the employees. It means employees can become more productive. A comfortable headset also boosts job satisfaction. Headsets causing discomfort can harm your employee's health and performance. It also affects the communication quality with the customers. A headset constructed with the comfort of users in mind can produce good results. The use of premium quality materials in construction can ensure comfort.
#

3 Wireless Agility
In modern workplaces, teamwork and collaboration can yield better results. Most offices go for an open floor plan to support this concept. Installing the right audio solutions can support the trend. UC headsets must provide flexibility, high quality, and mobility. It must empower employees to work from anywhere. The headsets must offer agility to desk-bound employees.
#

4 Active Noise Cancellation
The background noise can affect the call quality. It can also distract the employees. The open-office environment requires headphones with active noise-cancellation technology that can improve focus by reducing background sounds.
#5 Reliability
You must invest in a headphone that has technologically improved features with durability. The headphones must last longer without repairs, replacements, or significant downtime. Consistent audio quality also plays a role in choosing headphones. Investing in a good unified communication system can provide satisfactory results.
#

6 Value For Money
The headsets you buy must offer high-quality services. It must have high-audio quality yielding a better return on investments. The money you invest in installing unified communication systems must provide better returns.
When you invest in unified communication systems, choose a reputed brand. ADDASOUND has its roots in Denmark. It offers customers specially-designed products to enjoy the best experience. The headsets with superior-canceling features ensure crystal-clear voice transmission. The design promises great comfort and durability. ADDASOUND has become the most reputed brand providing products to satisfy customers. It can boost voice communication in your business. Get the best headsets promising high quality and reliability for better productivity in your business.