1. Unified communication for business headsets
What is unified communication? Unified communication refers to a free communication mode that is the unification of different communication methods such as telephone, fax, data transmission, audio and video conferences, instant messaging, etc., so that people can obtain data, images and voice through any equipment and any network at any time and any place.
The spread of the epidemic has prompted companies to carry out digital transformation and adopt new technologies to support employees to maintain efficient work during the epidemic, bringing catalysts to the development of the UC headset market. According to calculations based on a 40% year-on-year increase in the stock scale in 2020, the scale of China's unified communication market will exceed RMB 25 billion in 2020.
2. UC business headset breaks the information gap between the terminal and the people
The unified communication platform breaks the information gap between the terminal and the terminal, while the wireless UC headset breaks the information gap between the terminal and the people.
Business headsets that can support unified communication are called UC business headsets. Ordinary business headsets can support the connection with smartphones and PCs. Under the unified communication ecosystem, desktop phones and conference hosts have also been included in the communication category.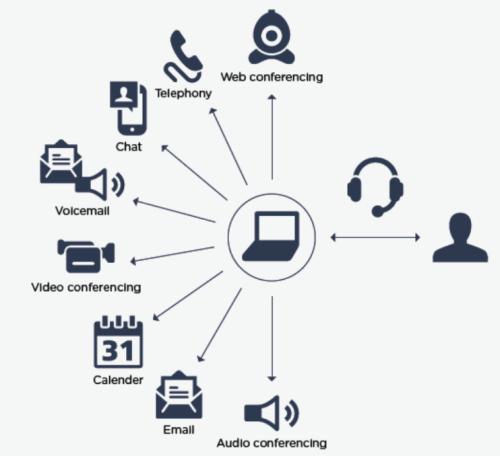 Figure: Through UC certified headsets, users can receive information from all communication terminals
Except that speakers can be used in conference scenarios, other scenarios require that the terminal is connected to a headset or a handheld terminal to make a call. A UC business headset can receive other communication information such as network meetings, fixed-line phones, voice mailboxes, etc. by connecting to a PC, bringing users a seamless connection experience between fixed-line phones, mobile phones, and PCs.