A high-quality speakerphone can be useful to you on numerous levels, whether you need one for your office boardroom or a portable device that is ideal for taking with you on marketing ploys. No matter where you are, you can create a Zoom conference call, play music, or converse hands-free. The very best speakerphones, however, enable crystal-clear conversation while being portable and adaptable. The following are the advantages of a fancy conference Speakerphone for your office:
●

Completely hands-free:
With a wireless Bluetooth speakerphone, you may answer calls without a headset, which will make lengthier discussions more comfortable for you. You can carry out other activities while conversing without having to hold the phone up to your ear, such as taking notes, cleaning, cooking, tidying up, or simply relaxing. Additionally, using a Bluetooth speakerphone removes the possibility of wrist fatigue during those protracted conversations. Furthermore, operating the speakerphone is simple. The majority of high-quality speakerphone models offer straightforward buttons for simple operation, such as placing and finishing phone conversations or altering the volume.
●

High-End sound quality:
A conference speakerphone is typically constructed with multiple professional-level microphones and a loudspeaker for clear voice pickup and sound amplification, in contrast to a typical smartphone with only one microphone and one speaker. It makes sense to spend money on this high-quality audio solution for your conference calls because effective communication is the cornerstone of corporate success.
The speakerphones that may make you fall in love with conference calls all over again are the greatest ones. With noise-cancelling microphones and a high-quality speaker, it might have been designed to capture noises from all directions in your home and make sure you can hear the other end. Your coworkers on the other end of the line can hear every word, even though your home is noisy in the background.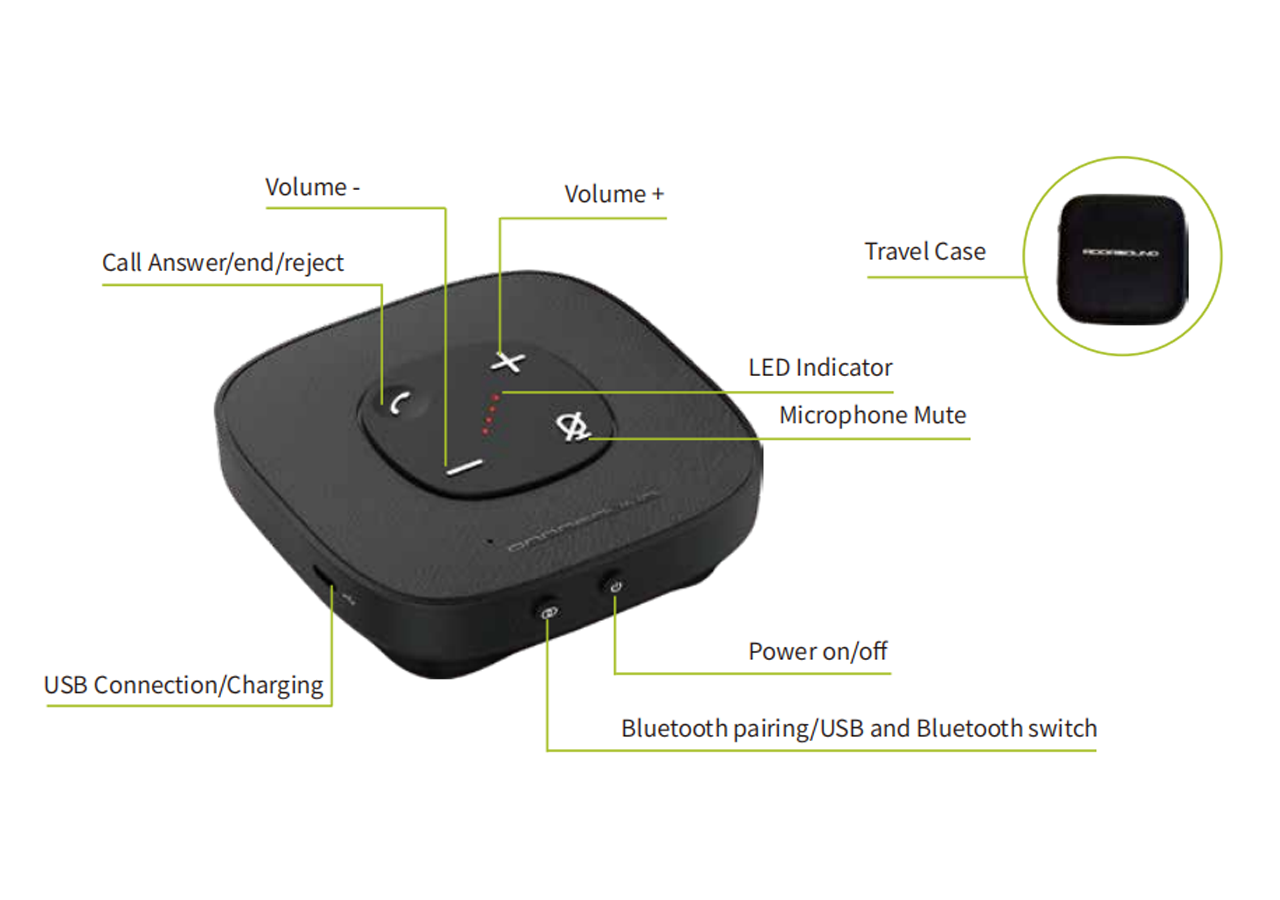 Conference Speakerphone
●

Mobility & connectivity:
Technology like Bluetooth moves quickly. Simply enable Bluetooth on your smartphone, activate the speakerphone, and you'll be connected in seconds. The speakerphone works with any conferencing program, including Zoom and others, as long as your smartphone supports Bluetooth communication. This implies that you are always able to quickly convert your living room or bedroom into a home office.
You can hold an online conference virtually anywhere thanks to the portability of many Bluetooth speakerphones, which are small enough to fit in a backpack or laptop bag. The finest speakerphone is made with a rechargeable battery that can sustain up to 10 hours of conversation time, allowing you to use it all day without needing an external power source.
●

Multi-person interactions are simpler:
A good speakerphone is necessary for business conference rooms where your team holds video conferences with clients, in addition to serving as an addition to the home office. All of your coworkers may take part in the chat at the same time thanks to a business speakerphone with the greatest sound and directional voice pickup. It makes the Zoom meeting more smooth for everyone in attendance and is far more practical than having everyone pass around headsets.
For your Zoom meetings, are you looking for the greatest stylish high-quality speakerphone? The best options are available to you from ADDASOUND DENMARK. They will take further precautions to guarantee that your interaction with their products is easy and trustworthy.