An office with employees must choose the best headsets that can ensure high-quality sound. It can make a change in the productivity of your workplace. Headphone with detachable cable has become a rage in new-age offices. It is beneficial for business as you can prevent damage to headphones due to the breaking of cable. Since many office workers may not feel comfortable switching to Bluetooth sound, a detachable cable headset may seem like the best option.
Importance Of Detachable Cable Headphone
Today, the industry faces tough competition. Your workers taking the call must satisfy the customers. Customer satisfaction holds the utmost importance in improving the productivity of a company. Seamless communication without any discomfort can ensure employees can work well. It is possible only when you choose the best headset. People working remotely or taking calls passing vital information need high-quality headphones that maintain durability, the best sound, and comfort. Workers collaborate with their colleagues and customers regularly. A detachable cable headphone from a reputed brand can benefit the workers.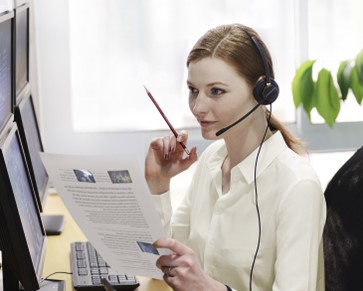 Avoid Replacing Headphones Due To Cable Damage
Headphone cables can become damaged. You cannot foresee or prevent the damage. In earlier cases, cable damage means replacing the headphone. Having detachable cable headphones means you have to replace the damaged cable alone. You can continue using good headphones.
Save Money
It is the best option to protect your headphone. It also makes sure the headphones last longer. Replacing the headphones for cable damage can put a dent in your budget. Replacing it with detachable cable headphones can save money. You replace only the cables and not the entire headset.
Ensure Comfort
An ergonomically designed headphone can avoid discomfort caused due to taking calls all day. Repetitive strain can make your employees feel uncomfortable. Using headsets with detachable cables can help the employees sit straight without straining their shoulders.
Better Sound Quality
When you buy the headset from a trusted brand, it ensures you can enjoy the better sound quality. The noise-canceling feature of the headset can filter unwanted background noises. When you work in a busy office or have to exchange sensitive information, the client must hear you better. The noise-canceling feature can make the headsets a better choice.
Are you looking for the highest quality headphone for your office? You must buy it from a trusted source like ADDASOUND. With its roots in Denmark, ADDASOUND has become the leader in providing voice solutions to customers around the world. You can access superior-quality communication devices for high sound quality and comfort. A talented team behind the platform has expertise in providing electro-acoustics solutions with stylish designs. ADDASOUND has a devoted team ensuring comprehensive voice solutions and the best aftercare services. You can choose from a wide range of headset types that can cater to professional needs. You can access products focusing on unified communications and speech recognition. The products will meet the specific needs of consumers. Get the products for your office from ADDASOUND. The reliable platform offers superior quality products for an exceptional voice communication experience.