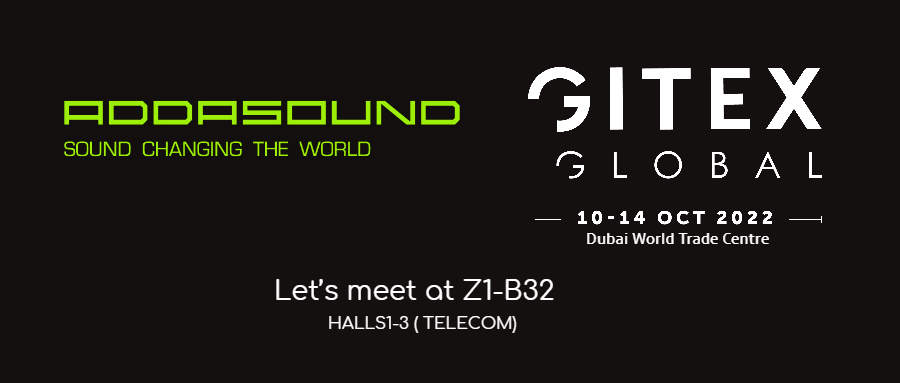 Time to get together at the world's largest tech + startup show. We ADDASOUND are proud to participate at GITEX GLOBAL, from 10-14 October 2022 at Dubai World Trade Centre.
We invite you to meet us at the show, and explore our innovations designed to empower your business into the future.
Let's meet at Z1-B32, located in ZA'ABEEL HALLS1-3 ( TELECOM)
GITEX GLOBAL brings together the most powerful showcase of cross-sector innovation and ideas from around the world:
· See the tech ecosystems of 170+ countries in action, including 4000+ top tech companies, 700+ startups, 400+ investors and 100,000+ professionals connecting at the event
· Explore the largest government representation in any tech event – over 200 entities presenting advanced public sector innovations
· Interact with the most experiential tech showcase covering global megatrends - Metaverse, Web3, Sustainability tech, Gaming, NFTs, AI & Robotics, Cloud & Edge, Quantum Computing and more
· Get expert, awe-inspiring insights from 1000+ industry & innovation leaders across 10 conference sectors: Digital Cities x AI, Telecom, Energy, Cybersecurity, Future Mobility, Healthcare, Education, Startups and Data Economy
· Experience the largest tech show collective: North Star (startups), Ai Everything, Global DevSlam (largest developer & skill-building event), Future Blockchain Summit, Fintech Surge and Marketing Mania covering a power-packed programme of live demos, pitches, conferences, certified workshops, youth competitions and more
The world of tech is coming together in truly spectacular fashion at GITEX GLOBAL, and you've got to be there too.
See you there!